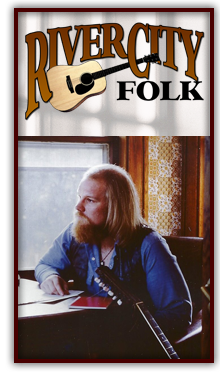 Tune in to River City Folk each week, streaming online on KIOS FM Omaha - www.kios.org Sundays at Noon PST

River City Folk can be heard weekly on a number of radio stations around the country. Click here for a complete Station Guide

Date: October 2
Show Number: 17-40

Artist: Jenn and Basho
About: Energetic, interesting original songs by this duo, who is currently touring all across the U.S. and beyond.

Date: October 9
Show Number: 17-41

Artist: Louise Taylor
About: From our archives, a profile of this fiery, innovative New England songwriter that went on to achieve recognition throughout the folk music community in the early years of this century.

Date: October 16
Show Number: 17-42

Artist: John and Maggie Carty
About: rom County Roscommon, Ireland, legendary fiddler John Carty and his daughter Maggie regale us with jigs, reels, airs and stories. John was the musical director for the wonderful movie "Brooklyn", about Irish immigration in the early 20th century.

Date: October 23
Show Number: 17-43

Artist: Tim Grimm
About: From Indiana, Tim has written songs that have been placed in televisions series and movies, while maintaining a touring schedule and working as a writer.

Date: October 30
Show Number: 17-44

Artist: Moe Dixon
About: This well loved singer/songwriter has based himself out of Nashville and Hood River, Oregon over his long career. Live at Artichoke Music in Portland!

Date: November 6
Show Number: 17-45

Artist: Sofia Talvik
All the way from Sweden, Sofia Talvik travels the North American continent in an RVwith her heartfelt songs- full of insight and hope.

Date: November 13
Show Number: 17-46

Artist: Kelly Bosworth
Kelly is a talented young singer songwriter from Portland, Oregon, just starting to take wing with her dynamic voice and emotional compositions.

Date: November 20
Show Number: 17-47

Artist: Dick Weissman
One of the finest chroniclers of acoustic music, from the inception of the folk revival to present, visits us to play a few songs and talk about his recent autobiography, released in 2015.

Date: November 27
Show Number: 17-48

Artist: Kathryn Clare
One of the most talented, hardest working women in the acoustic folk music world, Kathryn is simply a wonder on both guitar and fiddle. Recorded live at Artichoke Music in Portland, Oregon!

Date: December 4
Show Number: 17-49

Artist: Joel Mabus
Simply a legend in midwest US acoustic music, Joel is a gifted multi-instrumentalist with a gentle sense of humor and appreciation of traditional folk styles and tunes.

Date: December 11
Show Number: 17-50

Artist: Fine Company (Jim Portillo/Bill Murlin/Ron Dalton)
On their debut album, Jim, Bill and Ron bring a reverence, competance, and affection to the songs they chose of other writers, such as Tom Paxton, and to their own more light-hearted fare. A thoroughly delightful combination from Seattle graces Medicine Whistle studio for this one!

Date: December 18
Show Number: 17-51

Artist: The Whiskey Minstrels- live at Artichoke Music
Nolan Murray and Bruce Coughlin give an energetic show of celtic, country, and original music live at Portland's premier acoustic venue.

Date: December 25
Show Number: 17-52

Artist: Best of RCF 2017
About | History | On-Air Schedule | Stations | Live Tapings | RCF on TV | Podcasts | Press